The Valvraves are a group of powerful machines that were discovered at JIOR Module 77.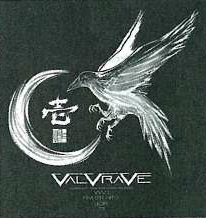 The Valvraves were created as part of the
VVV Project
, a development plan initiated by
JIOR
to create weapons that could single-handedly destroy enemy fleets. It is the first humanoid weapon equipped with the "Primate Frame." What is known, however, is that the "RAVE engine" residing within each of the Valvraves works on
Runes
, an entirely different form of energy than that of
ARUS
and
Dorssia
. This power not only allows the Valvraves to move, but also powers their weapons and even serves as a propulsion system, manifesting in the form of Hard Afterglow. While
Valvrave I
and
Valvrave II
are equipped with the RAVE engine, the other Valvrave units carry a Mirror RAVE engine, which are considered replicas of the original.
It should also be noted that the Valvraves were referred to as "entities" by Cain at one point, sparking rumors that extraterrestrial technology (or even lifeforms) were used in their creation. "Valvrave" is an acronym for "VAmpire Link Vessel Rune Activate Vital Engine." The emblem on the Valvrave's armor sections depicts a three-legged raven.
The Valvraves each possess a special operating system in which anyone who enters a unit that does not have a pilot is shown the question "Do you resign as a human being?" on the interface screen. If the person in question answers "no" (or if the question is left unanswered) the Valvrave will not move. In addition to becoming the pilot, the first person to answer "yes" will be transformed into a "Magius" and granted mysterious regenerative powers as well as the ability to transfer their consciousness into other people by biting their bare skin. Many see this as a contract of sorts. Valvrave I's interface features a unique guide program that shows a mysterious woman.
Others who attempt to pilot Valvraves that already have pilots will be killed by the machine via a lethal injection when they try to pilot it.
Known Valvraves
Edit