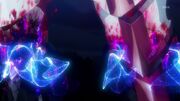 VLC Polymer, VLC meaning
V Light Crystal
, is the strange armor material of the
Valvraves
that appears unusually lightweight and extraordinarily durable, as a Valvrave is almost as heavy as a Dorssian
Waffe
but notably larger.
It appears that the VLC Polymer of a Valvrave changes from white to black when the Valvrave's RAVE Engine is active and has a supply of Runes, and 214 years later it seems to take on a fiery gold color.
RM-031 Valvrave III Hikaminari
have a charging process that involves "activating" VLC Polymer, although little is currently known about this process.
VLC Polymer's characteristic to change color is similar to the Phase shift armor seen in Gundam Seed.
Ad blocker interference detected!
Wikia is a free-to-use site that makes money from advertising. We have a modified experience for viewers using ad blockers

Wikia is not accessible if you've made further modifications. Remove the custom ad blocker rule(s) and the page will load as expected.