Rion Nanami (七海 リオン, Nanami Rion?) is a teacher at Sakimori Academy and is the only member of faculty not involved with the Valvrave project. She is a popular among the male students.
Later on episode 11, she became new JIOR's Minister of Health and Welfare.
Personality & Character
Edit
Rion is incompetent and shy but she has sweet personality. She have a curvaceous figure.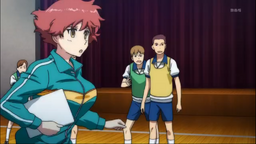 Rion is the only adult at Sakimori Academy who isn't an undercover military soldier. She and teacher Kibukawa have close relationship, although Kibukawa always treats her like a kid.
Picture Gallery
Edit