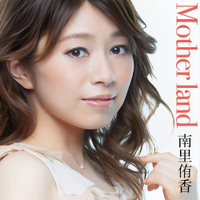 Mother land is an insert song on Kakumeiki Valvrave. It is performed by Yuuka Nanri. 
This song was first played at the end of episode 8 when L-elf foated in space and at the end of episode 21 when Kyuma manages to rescue Haruto and L-elf before dying.
| | | |
| --- | --- | --- |
| Motherland/Yuuka Nanri | | (file) |
Yume sae ubawareta mada osanaki hi ni.
Anata no me no naka ni tada kiseki wo mita.
Wakeau inochi no hi
Wasureuru, wake mo naku
Kioku no kanata he, te wo nobashiteru.

Kokoro kaeru ano hi no basho he
Futari wo nosete omoi wa meguru
Yagate, hate naki sora no mimune ni
Heiwa no uta wo kanade nagara.

Moshimo soba de mamoreru no nara
Ai no na no moto sei ni mo aku ni mo naru
Kegarenaki asu wo terasu
Shinjitsu ga koko ni aru nara.

Senka no matataki ni tozasareta sekai
Hatasenu yakusoku wa tada setsuna ni mau
Aitasa negau tabi
Yasuragi wa toozakaru
Yosete wa kaeranu sazanami no you ni.

Haruka tooku minamo ni utsuru
Anata no kage ni toketeyukitai
Yagate kanawanu inori no hate ni
Ayamachi sae mo yurushitamae.

Tatoe kono mi horobiyou tomo
Osore wo koete ken ni mo tate ni mo naru
Utsukushiki omoibito yo ikanai de
Tsui no mukou he.

Hanbun no tsukiakari kanashimi wo atatamete.
Haha naru daichi he to kaeriyuku sono toki made.

夢さえ奪われた まだ幼き日に
貴方の目の中にただ奇跡を見た
分け合う命の灯 忘れ得る訳もなく
記憶の彼方へ手を伸ばしてる

心還るあの日の場所へ
二人を乗せて想いは廻る
やがて果て無き空の御胸に
平和の歌を奏でながら

もしもその目守れるのなら
愛の名の下 正にも悪にもなる
穢れ無き明日を照らす
真実がここにあるなら

戦火の瞬きに閉ざされた世界
果たせぬ約束はただ刹那に舞う
「会いたいさ」願う度 安らぎは遠ざかる
寄せては返らぬ漣のように

遥か遠く水面に映る貴方の影に溶けてゆきたい
やがて叶わぬ祈りの果てに過ちさえも許したなら

たとえこの身滅びようとも
恐

When I was still young, and had no dreams left to me,
I saw the light of miracles in your eyes
Unable to forget the beacon of life shared between us,
I reach for the edges of my memory

My love resurrects the ancient past,
and with it you and the place I called home
Now at last a song of peace echoes
through heaven's vast embrace

If I am truly able to protect what I saw in your eyes
then in the name of love I will do good and evil both
I will do so if my truths show me the way
towards a sinless morn

The fires of war keep this world in their grasp
We swore an oath, a doomed and impossible one
Peace and quiet disappear whenever my longing for you grows,
like ripples on the water

I wish to drown myself in your reflection, far away on the waters,
once my mistakes have been forgiven after all my prayers