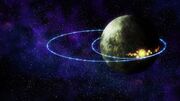 The 
Moon
is neutral territory and is settled by humanity in the True Era.
New JIOR
moves Module 77 there to end their harrassment from the
Dorssian Federation
.
At least one Mass Driver is present on the artificial orbital ring of the Moon.
It is also the site of a detonated Graviton Core.