Home
Talk

0
157pages on
this wiki
Welcome Kakumeiki Valvrave Wiki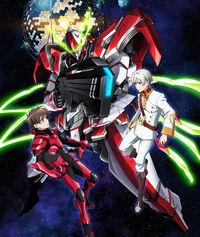 Kakumeiki Valvrave, also known as Valvrave the Liberator, is an anime that is set in the 71st year of the True Era where 70% of the human race lives in space following the development of space cities. A young high school student named Haruto Tokishima gets involved in a war between two superpowers, the Dorssia Military Pact Federation and the Atlantic Ring United States (ARUS) when he finds a humanoid machine weapon called Valvrave. The mecha was hidden in JIOR, a small neutral nation that has prospered economically. With this discovery, Haruto's life is changed.

Characters
Mecha
Featured Media
2nd Season Teaser
Featured Article
Valvrave One is a mysterious mecha hidden in JIOR and the first machine in the Valvrave series. Haruto Tokishima discovers Valvrave One 

during an attack from Dorssia, a military nation and one of the contenders in the war...

News
Loading RSS data...
Recent Blog Posts
Create blog post
(1) Why does the prince in the future resemble L-elf?

(2) How did the surviving pilot manage to live centuries piloting the machine that consumed human rune when it took less than a year to devour all…

Read more >

The memories composing the individual known as Haruto Tokishima is gone but he live on by assuming L-elf identity and inhabiting L-elf body with no recollection that he is in fact Haruto Tokishima wh…

Read more >
See more >
Poll
Will you be watching Kakumeiki Valvrave the 2nd Season when it premieres?
Follow Us